Join us in welcoming our newest addition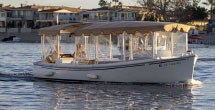 Bay Area Electric Boats! Bay Area Electric Boats (BAE Boats) will be launching at Grand Marina this month.
Captain your own Duffy electric boat for a few hours on the tranquil Oakland/Alameda estuary.
Check out their website, www.baeboats.com, to learn more about a family-friendly way to celebrate and explore with your social pod.