Fall-Winter Hours
Effective November 1st 2020, the marina office will be closed on Sundays until March 2021.
We will be in the office Monday through Saturday from 9-5.
You can leave us a message or shoot us an email and we will get back to you on Monday morning.
Happy Thanksgiving!
Thanksgiving Holiday Schedule
The Harbormaster's Office will be closed on Thursday the 27th and Friday the 28th of November.
We will reopen on Saturday the 29th at 9am.
If you need immediate assistance,
you can call our emergency maintenance line listed on the back page.
Grand Marina's staff is hoping everyone has a safe and wonderful holiday!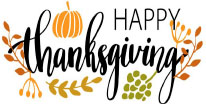 Insurance Renewals
In 2019 we were told by Boat US that they will no longer supply marinas with a customers updated insurance information.
Unfortunately, other carriers are following suit. It will now be up to you guys to send it to us once you receive it or you can call your insurance provider to have it sent to us directly.
Grand Marina requires a copy of current insurance in the file at all times.
Please keep in mind, we need to see the policy period, amount covered and Grand Marina listed as additional insured or interest part.
We will not accept simple proof of insurance cards or invoices marked "Paid".
Keep Your Keys to Yourself
We would like to ask that our berthers not loan gate keys out to people working on their boats. This is for your safety and the safety of your fellow berthers.
Boat workers need to preregister with the office to gain access to the docks. Once registered, they will call the marina office for access.
Boat workers will only have access during business hours.