Winter Preparations
It's hard to think of winter coming upon us, but it sneaks up sooner than we think! And nobody wants a call on a wet windy night, to be told that their boat has a problem. So, here are a few preparatory suggestions for winterizing your boat and slip:
1. Make sure your dock box lids are locked or secured. The wind can rip them off, sending them airborne, causing damage to boats.
2. Secure your halyards: Stop the banging and damaging chafe.
3. Check your dock lines: Do you have spring lines on your boat? Are the lines properly secured? Is your boat off the dock, no matter what direction the wind is from?
4. Engine maintenance: Fill your fuel tanks to avoid condensation over the winter months.
5. Batteries: Clean the terminal ends and apply a light coat of grease. Check the water level.
6. Clean out the scuppers and drains. Check your bilge.
Join us in welcoming our newest addition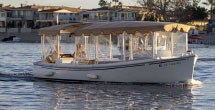 Bay Area Electric Boats! Bay Area Electric Boats (BAE Boats) will be launching at Grand Marina this month.
Captain your own Duffy electric boat for a few hours on the tranquil Oakland/Alameda estuary.
Check out their website, www.baeboats.com, to learn more about a family-friendly way to celebrate and explore with your social pod.
Information Update
If you have changed your address or phone number, please contact the Harbor Office to provide us with the new information. It is very important that we are able to contact you, especially in the event of an emergency with your vessel.
Keep Your Keys to Yourself
We would like to ask that our berthers not loan gate keys out to people working on their boats. This is for your safety and the safety of your fellow berthers.
Vendors have the option to get their own key or we can buzz them in during business hours. Vendors must preregister before we allow them access.
We will confiscate any fobs that are not properly issued.
A New Years Resolution
Help us get a jump start on next year's repairs and maintenance and let us know about repair work that needs to be done.
While our maintenance crew is on the dock almost every day, a "fresh pair of eyes" may notice something we have missed. Items that you may be aware of that we wouldn't see are broken dock box chains or hasps, loose or malfunctioning electrical outlets, or a dripping hose bib. Maybe a cleat is loose, or the bumper stripping is missing at your slip.
There are a few easy ways you can notify us of a maintenance item: Email us; call the Harbor Office at (510) 865-1200 and leave a message ; Drop a notice in the suggestion box in the restroom building; Write it on your payment slip and send it in with your rent payment.
We would appreciate knowing about needed repairs as winter sets in so we can take care of things before the worst storms roll in.
Thanks for your input.
Marina Etiquette
Grand Marina has a laundry facility on sight; however it is for our live aboard tenants only. For those of you that use these facilities, we would like to remind you to please clean up after yourself. Clean up all spills and use care with bleach and softeners. Bluing agents and dye are strictly prohibited. These types of chemicals and agents leave residue that ruin the clothing of the next person using the machines.
Please keep in mind that many people share the machines, so be considerate of your neighbors.
Grand Marina Speed Limit: (SLOW)
Seems that some of you are "driving through the marina parking lot like it is a freeway… Very dangerous." (In case you're wonderin', the parking lot speed limit is not 65.)
It was additionally pointed out that people driving around the warehouse are lead- footing it. A customer said that they have almost been hit by speeding cars, on many an upsetting occasion.
Believe me, that would ruin everyone's boating weekend, and I do not want to get that call!
Please folks, think of the safety issues. Driving fast in a restricted area is very dangerous, not to mention against the law.
People come here to relax, so slow it down!
Rent Slot
This is a reminder that if you need to pay berth rent and you're just not up to hiking up our stairs to the marina office or the weather is bad, you can drop it in our rent slot, located next to the Bay Island Yachts trailer and just right of the newspaper stand out front. Just be careful you don't put it in the out-going mail! The rent box gets checked everyday.
Dock Etiquette
Please keep your hoses rolled up on the hose hangers on the back of the dock boxes. If hangers are broken, call the marina office and we'll fix them. Also, make sure that your electrical cords can not go in the water. Not only is this a safety hazard, but it makes the marina look much nicer not having growth growing off of these items.